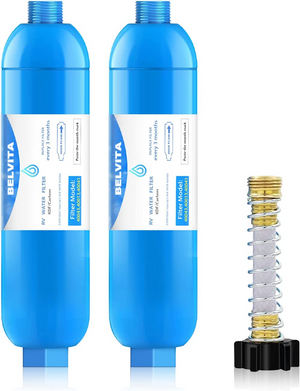 CAMCO
BELVITA RV Inline Marine Water Filter, Reduces Chlorine, Bad Taste&Odor for RVs,NSF Certified with Flexible Hose Protector
【High-quality materials】: BELVITA rv inline water filter uses advanced Granular Activated Carbon GAC and Kinetic Degradation Fluxion (KDF), it can effectively chlorine, delivers cleaner and safer drinking water by removing fluoride, chlorine, bad taste, odors, heavy metals and other contaminants.

【Extremely safe】: Our rv marine water filter improves the strength of the food-grade plastic shell, has good toughness, falling and cracking during use, and effectively guarantees your safe drinking experience.The rv water pump filter with a long durability can last an entire camping season for three months .

【Many uses】:This rv hose water filter can be connected to any standard garden faucet or water pipe to provide healthier and cleaner drinking water.Multiple uses in various locations,great for RVs,camping,gardening,farming,brewing ,auto washing,RVs,pool,marines ,boats,pets,SPA,trailer and other outdoor activities,meeting your various needs.

【Easy Installation】: This rv water filter comes with an flexible hose protector, which helps to reduce the hose from kinking and straining for smooth water flow. The rv water filter hose can be attached to any standard water hose for safe drinking water.You just need to attach an incoming water hose to filter in direction of water flow and then attach water outlet hose to RV or watercraft.

【Care for health】:Our water filter with flexible hose adds a fluoride removal function to protect your teeth, bones and digestive system effectively.For the best filtration and keep every sip of water the best condition, please replace the inline rv water filter every 3 months,so as to provide cleaner, crisp drinking water.