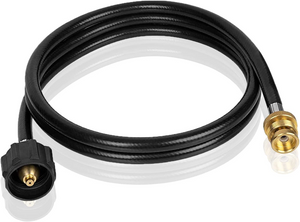 Davy Lake Campground & Resort
4ft Propane Hose Adapter Black Propane Tank Hose with Metal Connector for 1lb to 20lb Gas Tanks, Use for Outdoor Cooking, Portable Grill, Heater, Tabletop Stove, Griddle, and Camp Stove
【Feature】:5-feet long, the hose is made of rubber and the joint is made of solid brass.

【Safety and Durability】:Fits QCC-1 / Type-1 connection and connects 1lb propane hook up to 20lb tank. Solid brass provides a secure connection, provide secure and sealed connection between applications and tanks.

【High Quality】:Long-lasting rubber and solid brass fittings can be used for many years. Will not wear down or fall apart using propane hose adapter is a reliable and rust-free production.

【Save Money】:Place one end of the propane hose adapter on your 20 lb propane tank, The other end on your 1 lb propane tank, a simple, quickly solution to save money.

【Widely Use】:Use for outdoor cooking, portable grill, heater, tabletop stove, griddle, and camp stove.