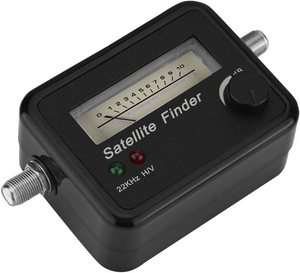 Davy Lake Campground & Resort
Campers Digital Satellite Signal Meter Finder 13-18V DC Satellite Finders Extremely Sensitive Meter That Indicates Very Small Changes in Signal Strength
ILLUMINATED METER DISPLAY:Illuminated meter display for use at night. Use the LCD screen to view the intensity of the satellite signal. The digital satellite finder is simple to operate, fade, tone and backlight.

EXTREMELY SENSITIVE:Extremely sensitive meter that indicates very small changes in signal strength. The finder digital sat finder is lightweight and pocket sized. Easy to carry when traveling and driving to camping.

PRECISE DETECTION:This professional digital satellite finder is much more accurate than any other meter in its class. The signal meter does not need to be recalibrated or complicated programming. Allows you to setup or maximize your satellite signal reception at the dish by yourself without having a friend assist or having to make multiple trips to your roof.

EASE TO USE:Handy tool to align any satellite dish in minutes. High quality and durable performance. With this satellite finder, you can quickly, easily and accurately set up and calibrate your satellite dish with reliable and stable performance.

AFTER SALE:We have professionals responsible for after sales. Therefore, if you have any questions, please contact us and we will provide you with the best service.