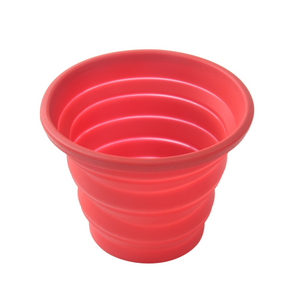 Ozark Trail
Collapsible 16oz. Cup
First, it's flat, then it's a cup! This ingenious lightweight collapsible hiking cup from Ozark Trail is great for camping. This collapsible drinking cup can easily be thrown into a backpack because it collapses flat in a snap, leaving you plenty of room to pack everything else you may need. After you are done drinking your beverage, it flattens out very easily to save space, and takes shape again when you need it. A must have when travel storage in limited! The Ozark Trail Silicone Collapsible Cup is also good to have as emergency survival gear, because it will not take up much room in a bug-out bag. The Ozark Trail Collapsible Cup can hold 16 ounces of liquid and is made from durable BPA-free silicone so you can count on it performing time and time again. It also eliminates the need for single-use plastic cups. It's long lasting so it will keep many paper and plastic cups out of our landfills.
SPACE SAVER- Cup collapses to become flat, making it easy to slip into a bag packed tight.
br>
VERSATILE- Don't limit this cup to just liquids, use if for soup, snacks or to store valuables.

DURABLE- This cup is made from durable BPA-free silicone, promising years of use.
LET'S GO CAMPING- Great option for campers to use when looking to travel light.

DISHWASHER SAFE- This set is 100% dishwasher safe allowing for easy clean-up and frequent re-use.