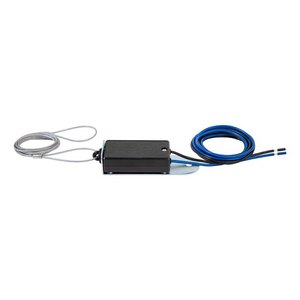 Curt
Curt Breakaway Switch
Connects tow vehicle to trailer breakaway battery
Actives trailer brakes when cable is released during a disconnect
Silver contact points for a superior electrical connection
Features a high-temp metal mounting tab and nylon pull pin
Nylon case protects components from the elements
For any and all types of trailers with electric trailer brakes, a CURT breakaway kit provides you with the equipment you need to be prepared. We offers three different complete breakaway systems to accommodate various trailer sizes and meet your specific towing needs. All of our breakaway kits are tested for your safety and meet DOT requirements for holding and breakaway situations.
This breakaway switch offers reliable activation of your trailer brakes, featuring silver contact points for a solid connection and a nylon case to protect against the elements. It is designed for use with the CURT Soft-Trac 1 and Soft-Trac 2 breakaway kits and features a high-temp weldable tab for convenient mounting.
Nobody hitches up a trailer expecting a breakaway, but that doesn't mean you should tow unprepared. Be ready for anything with a CURT breakaway kit.