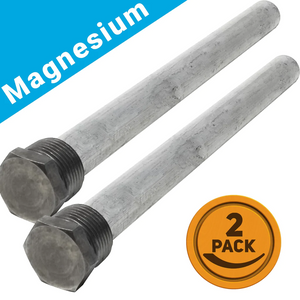 Camping World
RV Water Heater Magnesium Anode Rod
Inspect your anode rod monthly. Over time, minerals can build up around the drain plug making the removal of your anode rod difficult. Frequent inspection and cleaning will help prevent this. Drain the water heater by turning the drain valve handle counterclockwise. For maximum performance, replace your RV Water Heater Anode Rod when less than one half of the rod remains.

High Purity Magnesium Anode Rod (2-PACK) 9.25" Long with 3/4" thread. DIY replacement in minutes. Requires 1-1/16" Socket for installation, not included.
Extends the life of water heater tanks - electric or gas - in RV's, campers, trailers and other portable hot water heaters.
Stops tank corrosion and expensive tank replacements. Absorbs corrosive particles caused by hot water, preventing rust and other oxidizing activities.
Compatible with all Suburban water heater models (D, DE, DEL, DEM). Direct replacement for Suburban 232767 and Camco 11553 parts.
Inspect monthly. Anode rods should be replaced regularly, always keep a spare in your RV.